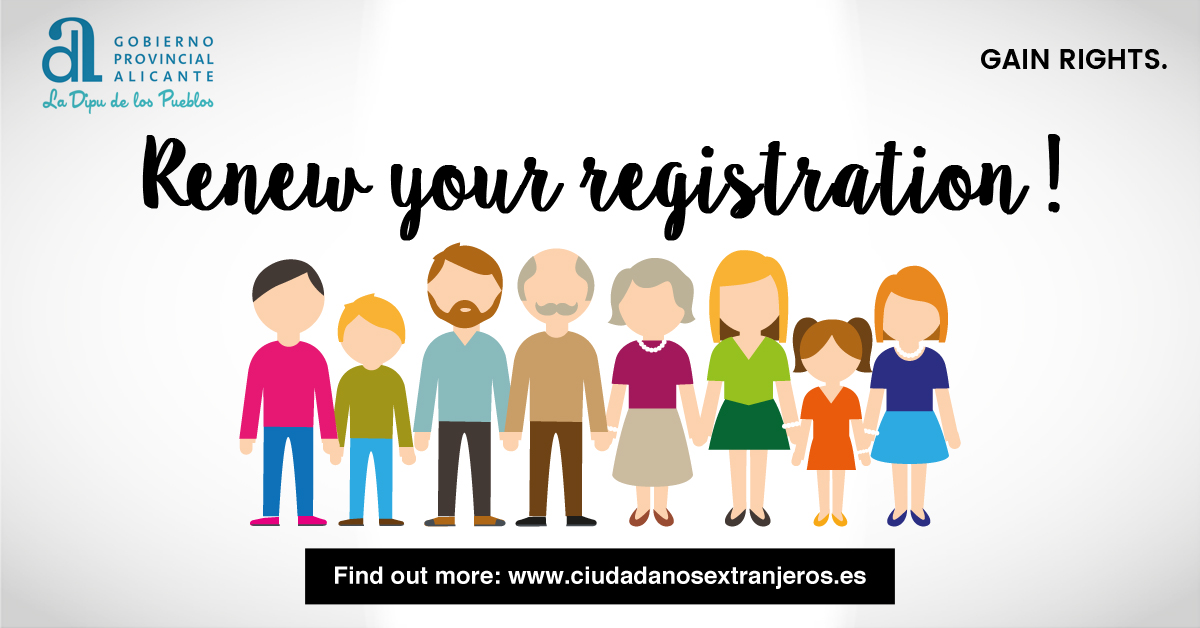 CAMPAIGN FOR RENEWAL OF REGISTRATION OF FOREIGN NATIONALS IN MUNICIPALITIES OF THE PROVINCE OF ALICANTE
______________________________________________________________________
Renew your registration. Until 31 March
Are you a citizen of an EU member state, Norway, Switzerland, Iceland or Liechtenstein and you're registered in the province of Alicante? Did you know that you have to confirm your registration in your municipality?
Citizens of an EU member state or from Norway, Switzerland, Iceland and Liechtenstein who are planning to live in Spain for longer than three months must apply for registration in the Central Registry of Foreign Nationals (RCE).
In order to be included in this Registry you need to go in person to the corresponding offices of the National Police Force; your registration number will appear in the Municipal Census of Inhabitants.
You must register in the municipality where you have established your normal place of residence.
If this is your case and you continue to live in the province, you must CONFIRM this situation so that the Local Council has an up-to-date record of your registration.
If you are already included in the RCE, you must CONFIRM it every 5 years
If you are not yet included in the RCE, you must CONFIRM it every 2 years
A change of address or of any personal information that the European citizens report to the Local Council will have the same effect as express confirmation.