Welcome to the website of Xaló Townhall.
We are currently working on adding information in English to provide you with the best possible service.
If you wish to search for general information about living in the province of Alicante, please visit the website of Diputacion de Alicante.
In the meantime, you can find useful information from the Townhall of Xaló on our Facebook page.
If you have any further questions, you can contact: Christian Wisotzki (Valenciano, Castellano, English, Deutsch) cristian@xalo.org or  Cornelia Lekkerkerk (Nederlands, English) cornelia.xalo@gmail.com
---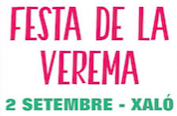 Join us on 2 September in Xaló to celebrate the tradition around winemaking and harvest of grapes. Xaló invites you to 'live' one of its most important traditions: winemaking. Come close and participate in the many activities we have prepared for you, including  the 'xafada del raïm' (stepping on grapes to make wine) or 'tast […]
0 comments
NETHERLANDS: Informatie in het algemeen over wonen in Spanje, in de provincie Alicante, is, in het Nederlands, te vinden op de website van de Diputation de Alicante voor buitenlanders.